Privacy Chain Link Fences
If you're looking for an attractive residential fencing option that gives you the security your family deserves, a chain link fence for privacy is a great choice for any size yard, enclosure, or as a non-climb fence that satisfies pool inspection code. 
Schedule Your Free Estimate Now
Security That Lasts
Chain link privacy fencing is maintenance-free and offers you 95% coverage so that your yard maintains the discretion you expect. It's more affordable than a wood or solid vinyl fence and comes in six colors to match your personal preference: dark brown, dark green, redwood tone, tan, grey, or white.
Professional Service
Every privacy chain link fence we construct starts with a written estimate so you know exactly what to expect. Once a contract is signed, we'll schedule a start date, usually in one to two weeks. The first day, we'll place posts and pour concrete to make sure your chain link privacy fence has the solid foundation it needs for years of service. After two to four working days to allow the concrete to cure, we'll hang any gates and stretch the fence. You can have your new privacy fence completed in a matter of weeks.

Give your family the secure, private yard it deserves. Schedule your privacy fence repair or installation with All American Fence Erectors today.
Installation Process:
Magnifying Glass Icon
Get written estimate
Sign contract
Schedule start date
One-Two weeks to start
Day 1 set posts
2-4 business days in between setting posts and stretching wire/hanging gates 
Day 2 stretch wire and/or hang gates
Why Choose This?:
Tools Icon
More affordable then wood or solid vinyl
Outlasts wood or solid vinyl
Maintenance free
95% Privacy
Passes Pool code
Strong & Durable
Comes in 6 colors Dk Brown, Dk Green, Redwood tone, Tan, Grey, White
Upon getting a written quote from our salesmen and once the contract has been signed we would then schedule a date to start. Depending on how busy we are at that particular time will depend on how long it would take us to start.  Most jobs take one day to set all the posts and one day to stretch all the wire and hang the gates.
NOTE: Usually, 2-4 business days between start and finish date for the concrete to cure properly and for time to build your gate(s).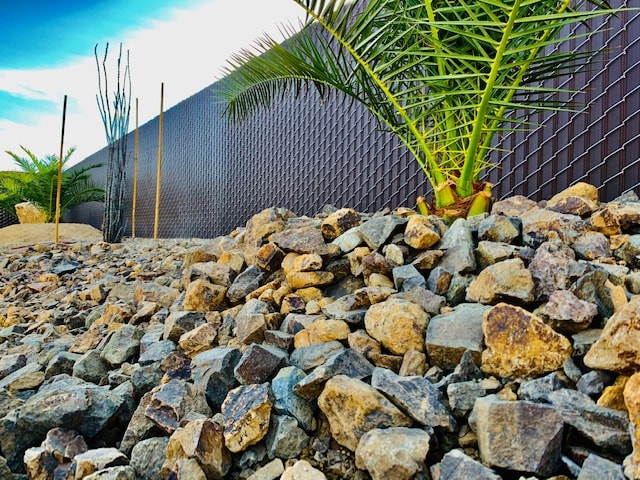 Privacy Chain Link Fencing - Affordable Privacy
For many residents of the High Desert, privacy is extremely important.  For those who like the afforability and zero-maintance of chain-link fencing, yet still desire privacy, then privacy chain-link fencing is the perfect fence for you! Compared to a traditional wooden fence, privacy chain-link provides you with similar privacy, yet it is longer lasting and a fraction of the cost of a wooden fence. Also for those who own a pool, a privacy chain-link fence passes the pool safety code.  Overall, this is a great choice for almost any home!

Coming in a number of different colors, privacy chain-link fences have become increasinly popular at homes in Hesperia, Victorville, Apple Valley, Oak Hills, Phelan, and other High Desert cities.  Colors include dark brown, gray, white, tan, redwood tone, and dark green. Installation normally takes between 2-4 business days. Give us a call today to learn more about privacy chain-link fencing!
Other Cities We Serve in California