Fence Services in Piñon Hills, CA
As the High Desert's top-quality fence company, All American Fence Erectors is pleased to offer first-rate fence services to the tri-community of Piñon Hills. If you live in Piñon Hills, Phelan, Wrightwood, or any surrounding community in the High Desert, our industry-leading fencing professionals can install new vinyl or chain-link fence on your property.
We specialize in both residential and commercial fencing. Whether you need a 2-rail ranch-style fence for your midcentury home or a drive-through double-swing gate for your business, our experts are here to serve. We'll provide you with a free estimate, and then we'll get right to work installing a custom fence according to your desired specifications.
We stockpile premium fencing hardware in our 5,000-sq. ft. warehouse in Hesperia, and we're able to offer competitive rates on all of our work because we buy in bulk and do all of our own work in-house and on-site. That's why we're the premier local provider for premium fence services.
Contact Us for the Best in Fence Services
We specialize in fence and gate installation and repair, and we provide custom service that's tailored to each of our commercial and residential customers.
If you're looking for a quality fence company that won't let you down, contact All American Fence today for your free, no-hassle estimate. Let us show you why we've been a top-rated High Desert fencing company for over three decades.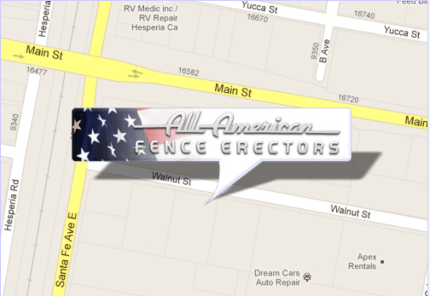 Other Cities We Serve in California