Identifying the Various Chain Link Fence Parts by Name
Are you planning to build your own chain link fence? Or maybe your existing fence is falling apart and you're just hoping to give it an upgrade. Whatever the case, the first step is to identify your essential chain link fence parts by name. When you know exactly what you need, acquiring the right parts is easy. We've created this helpful infographic to aid your process.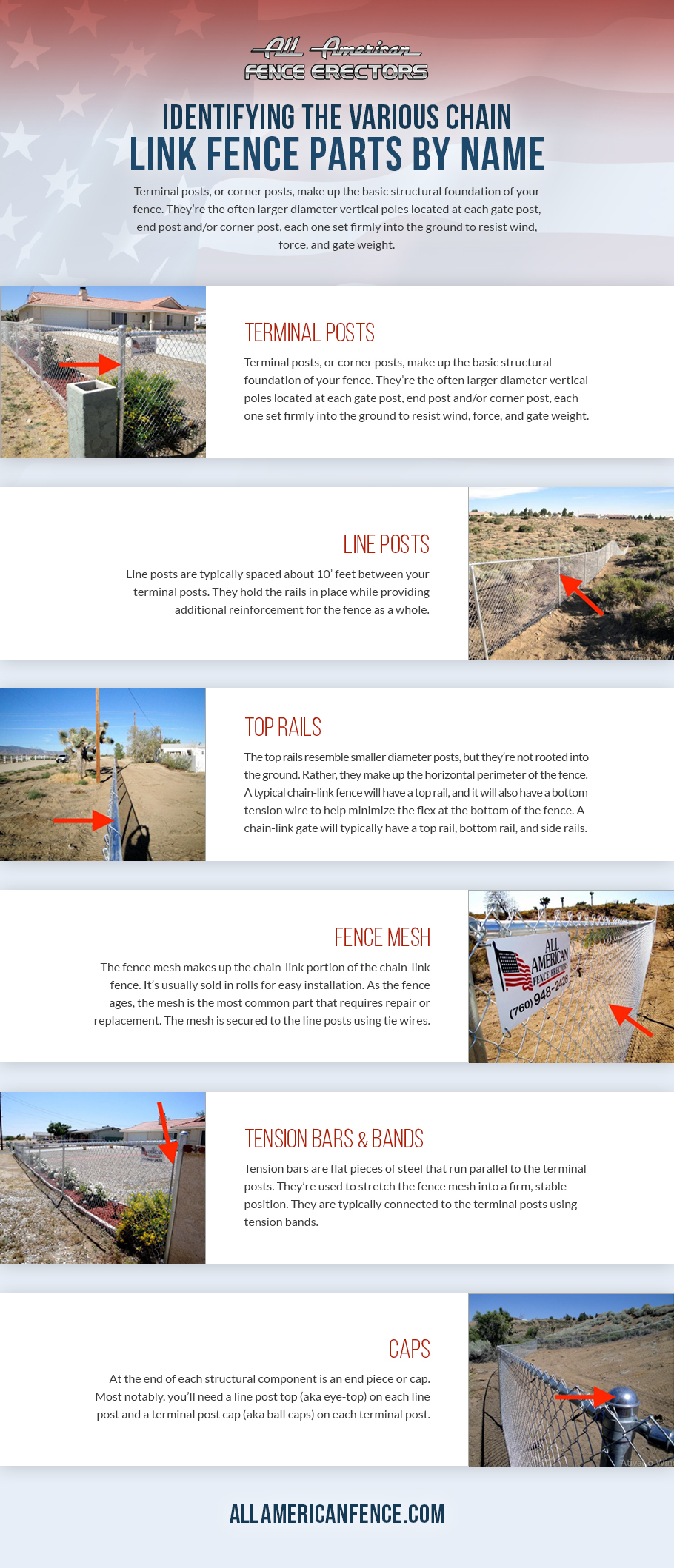 Knowing Your Chain Link Fence Parts By Name
The basic structure of a chain-link fence is actually pretty simple: you have your posts, your mesh (typically sold in rolls), and your rails, along with a few attachments for structure and stability. Once you know what you need, the next step is to figure out how much linear footage you need to cover. From there, you'll be able to determine how much to buy. For instance, when you know the size of the fence, you'll know how many line posts to purchase, how many feet of mesh, how much tension wire, etc...
The graphic above identifies most of the key chain link fence parts by name, all of which you can purchase individually from All American Fence Erectors. We purchase all of the components in bulk and store them in our 5,000 sq. ft. Hesperia warehouse, which means we're able to offer the best deals for your DIY chain-link fence installation. 
A Few Notes About Installing Chain-Link Fences 
Purchasing the parts you need for your chain-link fence is only half the battle. The installation is the real challenge. 
The most important thing is to properly set your posts. The rest of the job will be a waste of time if you don't have a sturdy foundation. Posts should be installed 18 to 24 inches beneath the ground and set with concrete and cure for at least 2 to 4 days. Only then can you safely install the railings and mesh. 
Note also that if your installation includes a chain-link gate, the list of parts is more substantial and includes additional rails, hinges, and latches. If you're not sure where to start, All American Fence Erectors can help. We handle chain-link fence installation throughout the High Desert, and we can also ensure that you have all the parts you need if you prefer to go the DIY route. Contact us today at (760) 948-2428 to get started.