Steps to Professional Chain Link Fence Installation
Professional fence installation is a great way to get a strong fence that gives you a secure yard for your property, family, and pets. Whether you want to install a privacy fence, vinyl ranch-style fence or chain link fencing, professional installation gives you results you can count on to last. If you're considering a fence, knowing the steps to install a fence can help set the proper expectations as you begin the process.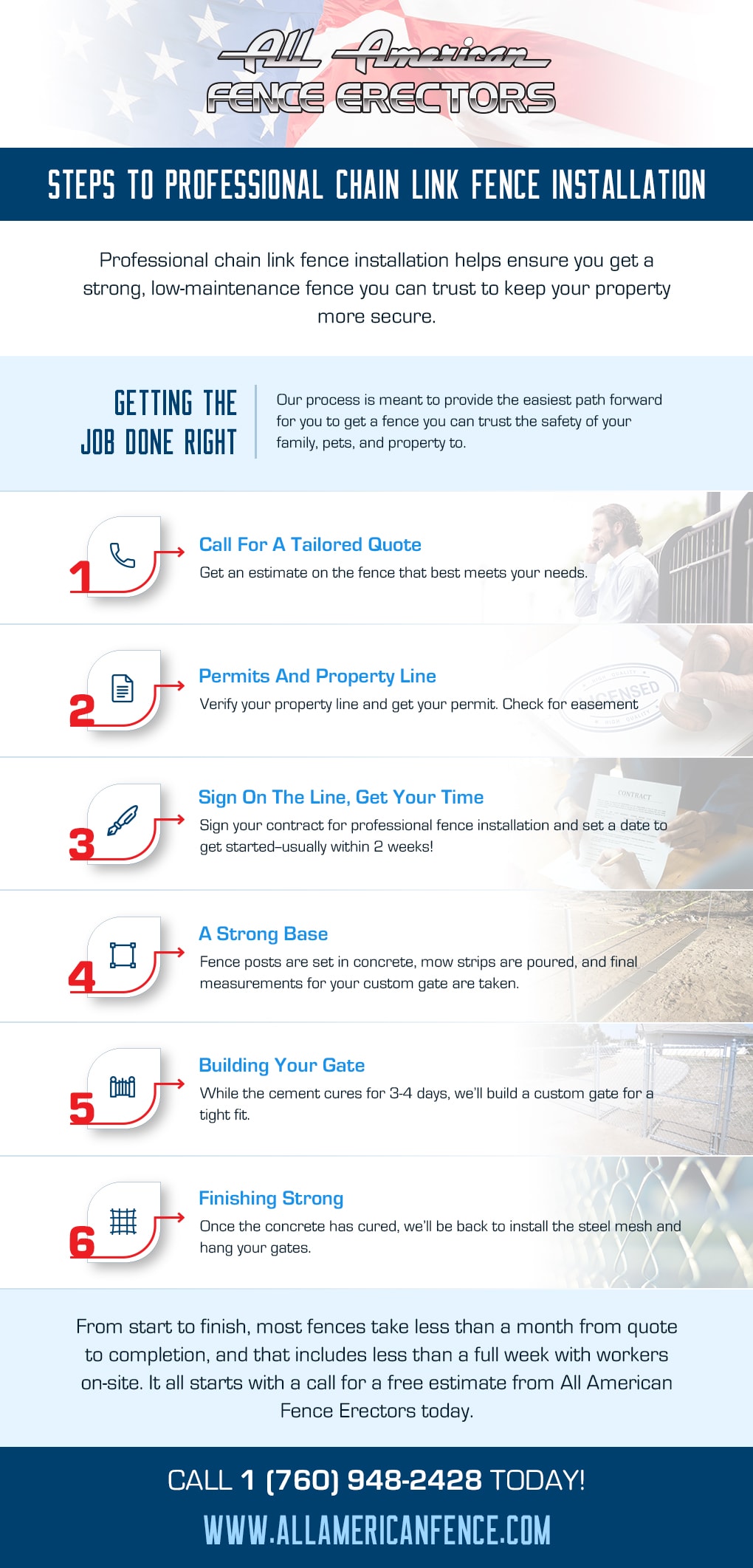 Call for a Quote - Once you call for a quote, one of our specialists will make an appointment to visit you. They'll discuss where you're considering a professional fence installation on your property and take measurements of your property. Part of the discussion will be whether you intend to get a standard chain link fence or a privacy chain link fence. Then you'll get a free quote or quotes so you can make an informed decision.

Get the Permits - If a permit is required by your city, it's your responsibility to get one. Additionally, you may want to verify your actual property line, if there are utility lines or easements to worry about, and ensure your city and HOA codes allow for the type and height of fence you're considering.

Sign the Contract - Once we have a signed contract for the fence, we'll schedule a start date. Usually this will be around two-weeks from signing.

The First Day - On day one, our crew will come out and begin digging the holes for your fence posts. Concrete will be poured and the posts will be set. No fence will be hung at this time. Instead, the poles will be left for several days for the concrete to cure, creating solid anchors in the ground for your new fence. While we're there, the final exact measurements for your custom gate's' will be taken.

Build Your Gates - While we may not be at your property for 3-4 days, that doesn't mean we aren't busy. We build our gates at our facility to your fence's specifications. It's one of the benefits of professional fence installation that DIY kits can't match.

Finishing the Fence - After the concrete has cured, we come back to stretch the fence and/or hang the gates. The steel mesh is stretched taut over the poles to create a stable and secure barrier, then we hang your custom gates. All in all, the first to last day of the project usually takes just under a week for a standard-sized yard.
For over 35-years, we've followed these steps to installing a fence to create great yards for our customers. While we may do most of the work, it all starts with you. Either fill out our contact form or call one of our specialists at (760) 948-2428. Let All American Fence Erectors help you create the yard your family deserves with professional fence installation today.