There are many benefits to installing a chain-link fence or gate to a property that have led to chain-link becoming so popular. Not only does a well-done chain-link gate installation potentially increase the value of your home or business, but it also adds privacy and additional protection from local wildlife and weather-related damages. Depending on your property or business's unique needs, when researching options for a chain-link gate you'll find that there are many different types to choose from. Let's explore some of the most popular chain-link gate options and the benefits and drawbacks of each to help you determine which chain-link fence would be best for your space and needs. 
Why Choose a Chain-Link Gate?
While many chain-link gate installation options will feature specific requirements, there are many similarities to this type of fencing that make them so popular. Some of the key advantages and benefits of installing a chain-link gate include:
Affordability: For those looking for a cost-effective fencing option, chain-link is by far the most affordable choice as a fencing material.

Durable: Especially for those accustomed to strong High Desert winds, the interlocking steel and weather-resistant design of a chain-link gate makes it one of the strongest fencing options. 

Low Maintenance: Luckily, chain-link gate installations and repairs are quick and simple processes with the help of a reliable fencing service such as All American Fence Erectors. Chain-link fencing is one of the quickest to install and future potential damages can be easily spot-treated and repaired. 

Variety of Options: As we'll find out later in the article, the options for installing a chain-link fence and gate are pretty extensive. Chain-link fencing is some of the easiest fencing to customize, and with the help of a trusted fencing company such as All American Fence Erectors, the sky's the limit. 
Chain-Link Gate Options
Choosing the best chain-link gate installation option for your property will depend on what you're hoping to provide a barrier against and the environmental demands of the space. Discover a few of the chain-link gate options below to determine which of these options would be most effective for your needs. 
Walk Thru/Pedestrian Gate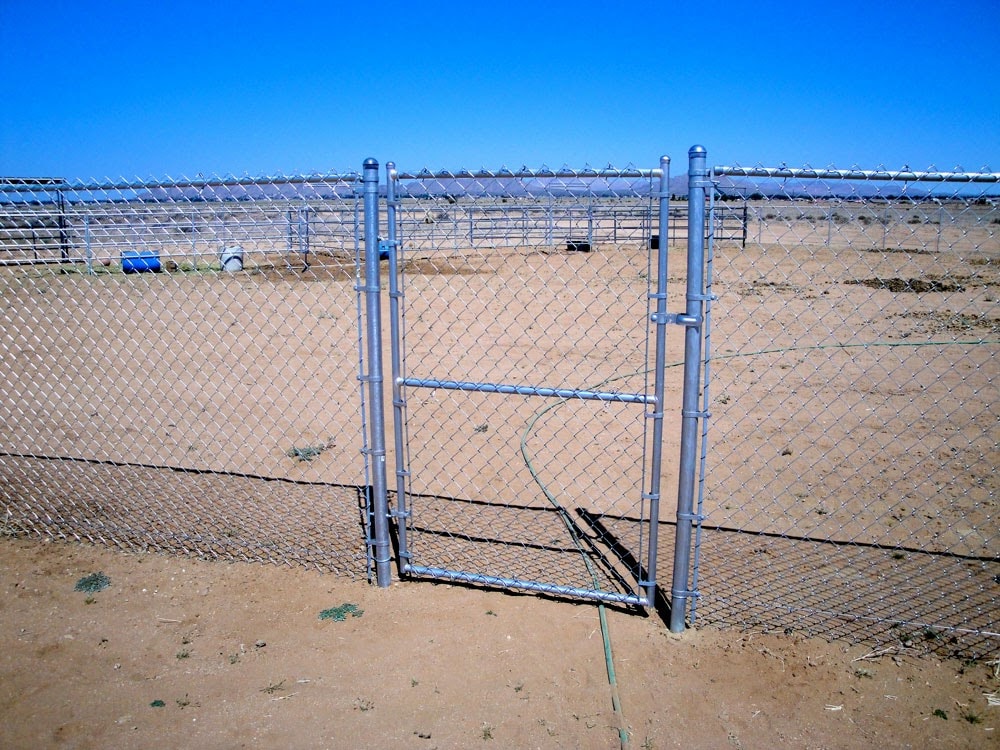 If you're looking for simplicity in getting from one side of the chain-link fence to the other, this gate option is the most affordable and convenient choice. One of the most requested chain-link gate installations, walk gates are typically placed along the fence line or next to the home for ease of access from the front of the property to the back. The most common size is 4' inches wide and can range from 3'- 6' wide. 
This gate is perfect for those looking to purchase the most simple and affordable fencing option to accommodate foot traffic. 
Double Swing/Drive-Thru Gate 
For those looking to drive vehicles through the chain-link gate, the double swing gate or drive-through gate option is probably the smartest choice. The double swing gate can range from 10' - 20' in width but our most common double swing chain-link gate installation ranges from 12' - 16' wide.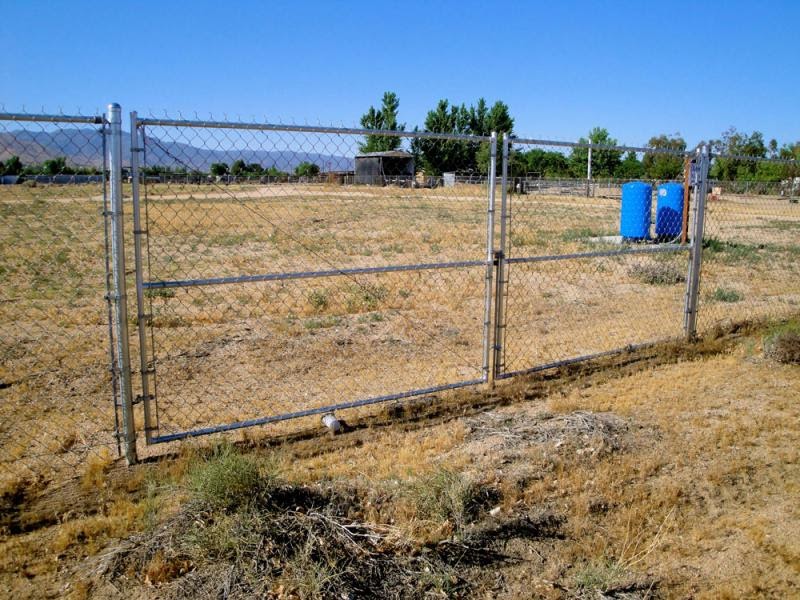 Pros of a Double Swing/Drive-Thru Gate:
When installing a chain-link gate or fence for vehicle clearance, double swing gates are the perfect option for interested buyers trying to keep a tight budget. 

Since this type of gate doesn't touch the ground, rough terrain and rocky asphalt will not affect this type of chain-link gate. 

The lightweight nature of the swing gate allows the door to be open and closed with very little effort. 
Cons of a Double Swing/Drive-Thru Gate:
Due to the swinging nature of the gate door, the terrain beneath the gate needs to be relatively level for proper installation of the chain-link gate. 

During times of inclement weather and high winds, the gate can be blown around when in use. Luckily this can be fixed with the use of gate holdbacks. 

Gate slamming can cause hinges to spin out of adjustment and drop rods can be finicky after years of use. These are both easy to fix and repair.

Installing a gate operator is not practical on this type of gate which can lead to abuse and subsequent damage to the fence. 
This gate is perfect for property owners looking to accommodate vehicle traffic that have rougher terrain and anticipate infrequent use. 
Rolling Gate 
This type of chain-link gate installation is ideal for main driveways where the gate is to open flat and positioned above concrete. Mounting a strip of iron along the concrete to ensure the gate rolls perfectly into the gate latch each time is a simple modification we offer. While this increases installation costs slightly, the effortless gate operation and increased wheel durability make installing this chain-link gate well worth it in the long run.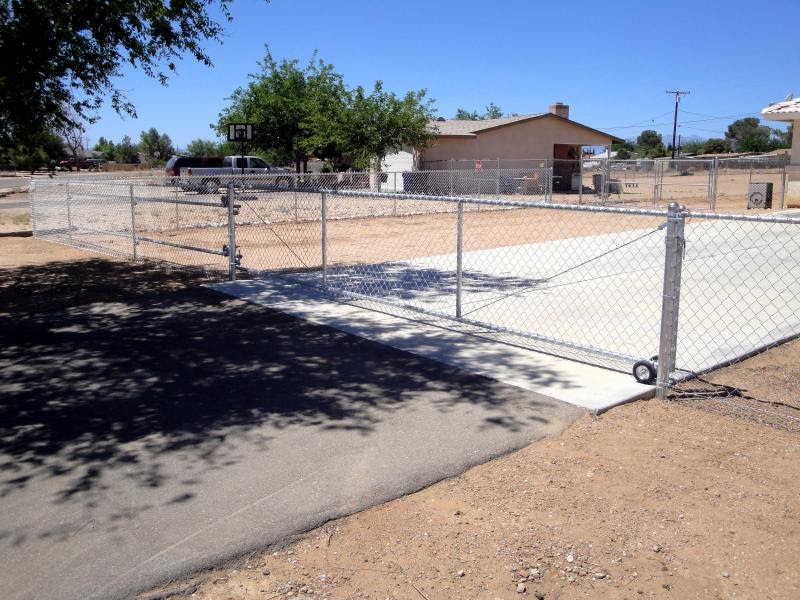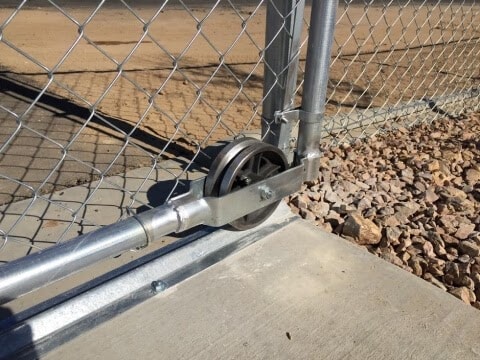 Pros of a Rolling Gate:
As the gate opens parallel to the fence, the opening is simple even if vehicles are behind or in front of the gate. Plus, the gate will never accidentally swing open so you can prevent potential damage to vehicles. 

Most rolling gates have a single door, so unlike a double-swing gate there is only one gate to operate, and adding a gate operator is a simple process with only a few add-ons within the chain-link gate installation. 
Cons of a Rolling Gate:
Rolling gates work best over concrete foundations, so there are some limitations on the type of property or space that will find this fence effective.  

While rolling gates are easy to operate, installing this chain-link gate and fence is less cost-effective than other options. 
This gate is perfect for: A rolling gate installation is great for those who already have a smooth, flat, hard surface for the gate to roll on who experience high vehicle traffic within their property. 
Pinch Roller Gate
A pinch roller chain-link gate installation is ideal when you need an opening larger than 22 feet. This single-rolling gate operates smoothly with little to no maintenance. Made out of heavy-duty SS-20 & SS-40 materials to help stiffen up the excessive length of the chain-link fence, this is one of the most durable fencing options.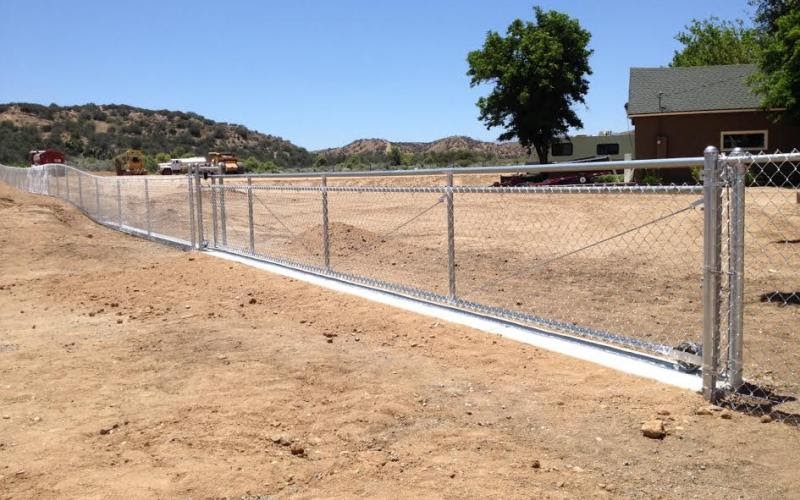 Pros of a Pinch Roller Gate:
The design of a pinch roller gate ensures that the gate opens and closes perfectly straight and in line with the fence every time. A concrete strip with an easily-mounted angle iron covers the width of the entire opening to help the gate shut smoothly.

Operation is trouble-free with the pinch rollers and angle iron being the only parts that come into contact with the gate.

With no wheels or pipe track to fall out of alignment, closing and opening the gate without frustration is guaranteed.
Cons of a Pinch Roller Gate:
A pinch roller chain-link gate installation requires a concrete strip double the width of the gate opening which can add to the overall price.

This is a slightly heavier gate option due to the excessive length and added durability of the materials used to help the gate roll extremely smoothly.

You'll find when installing a chain-link gate that most gate operators only open as wide as 22 feet, however, higher-end commercial units are also available with a slightly higher budget.

The gate space needs to be within 2% level to ensure proper rolling.
This gate is perfect for property owners with a flexible budget looking for a rolling gate with little maintenance and no-stress operation. 
Contact All American Fence Erectors for a Professional Chain-Link Gate Installation
Each property has unique characteristics that come into play when choosing the best chain-link for your current space and needs. Whether you're looking to add additional barriers around your yard space or need a pool or garden fence to prevent unwanted damage, All American Fence Erectors will show you our wide catalog of fencing options to customize your fence to operate as smoothly as possible. 
Since 1985, All American Fence Erectors has proudly operated as the High Desert's premier service for chain-link gate installation and repair. Serving customers in Victorville, Hesperia, Apple Valley, and other surrounding communities, we'd love to put our hardworking experts to work for you. We make installing chain-link fences and gates streamlined and simple to help you get the exact fence your property needs. If you have questions about chain-link gate pricing or you're ready to get started, contact us today to schedule your free estimate.